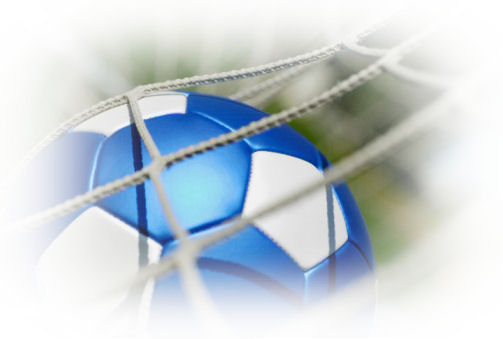 Roundwood Afc
ROUNDWOOD'S FIRST SOCCER TEAM 1948
The first Association Football (Soccer) team from the area took to the field in 1948 when a side from Roundwood participated in the Bray Summer League, which was the forerunner of the present Wicklow Football League. The Bray Summer League was played at the People's Park on week evenings and the team from Roundwood competed in the summer of 1948 after a dispute with the GAA authorities had resulted in the local Gaelic football team withdrawing from competition. The Wicklow People of 13 March1948 gave the following account of the GAA incident:

Within two minutes of the end of the league match at Ashford between Roundwood and St. Patrick's (Wicklow Town) the referee, Mr. W. Lawless, ordered a player from the former to the line. He refused to obey the ruling, and after the usual three minutes allowed by rule the referee called off the game and awarded the points to St. Patrick's. Wicklow were leading by one point on the score of 2 goals 6 points to Roundwoods 2 goals 5 points, and anything might have happened as Roundwood were always great finishers and were playing very well at this stage.

Because of this, the local GAA team was suspended or withdrew from competition and this led to the formation of the soccer team. It was difficult to find information on the first Roundwood soccer team as very few records exist for the period. Equally some of the former players were reluctant to speak of the team or their memory was dulled by the passing years. It must be remembered that the G.A.A. ban on players playing foreign games was then sacrosanct and was not in fact rescinded until 1971. This was probably the reason why W. J. Duffy, the local correspondent of the Wicklow People, did not mention the team in his column. However, occasional references were recorded in the Bray notes of the Wicklow People. In the 24 July 1948 edition of the local paper the writer of the Bray notes recorded the first ever reference to a soccer team in Roundwood as follows, In Bray at the moment soccer is booming, the summer league (representation of every part of the town and district as far away as Roundwood) being a great success. The Roundwood team appears to have played about eight matches and their opponents included teams representing Kilmacanogue, Greystones, Enniskerry, Goatstown; as well as Dargle Rovers and C. I. E. and other teams from Bray. The team may not have been called Roundwood and may possibly have represented Maloney's pub in Bray.

The Roundwood players of 1948 included, Michael Rooney (Capt.) Pat Hughes, Gerry Byrne, Matt Keenan, Frank Keenan, Liam Timmons, Jack Mason, Joe Hayes (goal) Paddy McCabe and Billy Brien. Other players mentioned included soldiers from Kilpedder camp, and possibly a Kinsella of Kilternan in goal and a man named Marley and possibly others from Kilternan and Stepaside. Players from the Moneystowm area may also have been involved. The team mentors included, Joe Keenan, Bob Carter from Laragh and an English man named Talbot who was working at Laragh House Hotel at the time. Supporters included Tom (The Fiddler) Doyle of Corsilla, and Mick Carroll and Jim Byrne who were both Bray residents with Roundwood connections. The team apparently won their first match by a high score and went on to reach the semi-final or final, which they lost. None of the other more established teams relished playing against the Roundwood men as they were described as robust. One incident was well remembered which involved a spectacular headed goal scored by Pat Hughes of Knockraheen, and this was noted as a highlight of the team's involvement in the Bray tournament. Another of the Roundwood players, Frank Keenan, made a big impression on the tournament that summer. The Bray correspondent of the Wicklow People of 31 July 1948 under the heading Bray v. Glasgow gave the following information:

Soccer enthusiast in Bray had an attraction with somewhat of an international flavour in the Peoples Park on Tues. night when Crosshill C.Y.M.S. Glasgow, met a Bray Summer League select XI in a game that provided valuable enjoyment for a huge crowd.

The Bray select XI won this game on a score of two goals to nil. Frank Keenan from Roundwood was selected on this team and he won a set of cuff links. He thus became the first Roundwood soccer player to play on what was effectively a Wicklow representative team. It was because the Bray Summer League of 1948 had attracted teams from outside Bray and as far away as Roundwood that Charlie Bishop decided to then form a soccer league for County Wicklow. The Wicklow People of 4 Sept 1948 under the heading League for Wicklow reported as follows:

The Bray league as is well know to all followers of the game, ran a most successful competition during the summer months and numbered competing teams from Greystones, Kilmac, Roundwood and Enniskerry.

The new venture to form a league for Wicklow received enthusiastic backing from the FAI with an advertisement being placed in the Wicklow People inviting teams to apply for membership to Charlie Bishop before 17 September 1948. Following on from this a meeting was held in Bray on 18 September 1948 which resulted in the formation of the Wicklow League. Unfortunately the Roundwood team that had acquitted themselves well a few weeks earlier did not enter a team. When the GAA dispute was settled (largely through the efforts of Billy Lawless who was no doubt worried that the players would be lost to the GAA) the pioneering Roundwood soccer team of 1948 went back to playing Gaelic football. They soon became one of the best ever Roundwood GAA teams at a time when a great St. Patrick's team from Wicklow Town were dominant. As a result the first ever Association Football team from the locality was quietly forgotten about and it would be some 25 years later with the advent of Red Bank United and Roundwood AFC in the mid 1970s before soccer would become firmly established in the area. However, the team of 1948 had the unique distinction of being the first protagonists of the beautiful game in the Roundwood area and Frank Keenan the first local player to gain representative honours.




COMITEE MEMBERS
| | | | |
| --- | --- | --- | --- |
| Position | Name | Tel | Email |
| Chairperson | Shane Langrell | | |
| Treasurer | Lynette Walsh | | |
| Assistant Treasurer | JasonWalsh | | |
| Club Secretary | Ciaran Dunne | | |
| Juvenile Secretary | Ger Byrne | | |
| Child Liaison Officer | Katrina Roche | | |
ROUNDWOOD AFC HISTORY
The increasing population of the Roundwood area in the 1970s, including the building of the Vartry Heights estate, resulted in an increasing need for local sporting outlets. At that time sporting facilities in the village were non-existent. In the summer of 1975, this need was instrumental in the setting-up of Roundwood AFC. One Sunday afternoon in early summer that year, a group of local youths were standing on the street with nothing much to do when the often mentioned subject of entering a team in the Wicklow League was once again raised, this time by Eamon McGrath of Togher Beg. It was agreed that there was no point in even talking about entering a team unless a pitch could first be acquired. It was suggested that local publican Seamus Healy, who also had a farm close to the village, might be the man to ask. Soon after a small group including Anthony Doyle and John Doyle were in the pub when Martin Timmons took on the role of spokesman and asked Seamus Healy if he would be prepared to provide a pitch for an intended new soccer club. He immediately agreed and recommended that a customer of his, Paddy Brown be contacted.

Paddy Brown who had recently came to live in the area on marrying a local girl, and who had been involved in soccer in Dublin with both Larkview Boys and Newtown Rangers, immediately came on board. That same Sunday evening he met with John Doyle and Martin Timmons in the car park of Seamus Healy's Pub ( now Byrne and Woods) and together they walked the field behind the premises, that became known as Vartry Park, and decided that it would be suitable for a pitch. Paddy Brown then enquired as to what name was intended for the new club and Martin Timmons replied with one word, 'Roundwood'. After a moments hesitation Paddy Brown replied, 'It's as good a name as any.' Paddy Brown then advised that goalposts be erected as soon as possible in order to demonstrate to people that this was a serious venture. On Monday evening, John Doyle and Martin Timmons drove to Moneystown and ordered a set of goalposts from Byrne Brothers of Glenacoria, which John Doyle paid for from his own pocket. Within a few days, the posts were delivered free of charge via Tommy Healy's lorry to Vartry Park and quickly erected. As soon as the posts were in place the field became a hive of activity almost every evening for the rest of that summer. An ad hoc meeting consisting of about five or six people was held in Healy's Bar during the week before a general meeting was called for the following Sunday at which the first committee was elected as follows: John Brady (Chairman), John Doyle (Vice-chairman) Paddy Brown (Sec.), Martin Timmons (Tres.) and Liam Holt (PRO). John Doyle and Martin Timmons were the first delegates to represents the club at a Wicklow League management meeting.

At Paddy Browns behest, a schoolboy's team was also entered in the Wicklow Schoolboys League. Galen Weston (Owner of Brown Thomas and Penneys) of Roundwood Park provided two sets of jerseys, nicks and stockings for the new teams. Throughout the summer, work was carried out on the pitch with Joe Fanning, again free of charge, removing a number of dangerous granite boulders from the field with his JCB.
Roundwood's first match in the Wicklow League took place on 7 September 1975 at Vartry Park against Anchor United from Castletown in north Wexford. The team lined out in black and amber hooped jerseys, black nicks and amber socks and Roundwood won there first match on a scoreline of 1-0, with the first ever Roundwood goal being scored from a free kick by Jimmy Burke. Paddy Brown was the manager of the first team and the players involved were as follows: Jimmy Clarkson (Drumbawn) in goal, John Halligan (Mullinaveigue), Jim Molloy (Broomfield), Keith Price (Vartry Heights), Ger Pegman (Kilpedder), John Brady (Main Street), Jimmy Taylor (Ballinastoe), Eamon McGrath (Togher Beg), Thomas Armstrong (Main Street), Syl Lynch (Toghermore), Jimmy Burke (Ashtown) John Doyle (Main Street) and Martin Timmons (Diamond Hill). Both Cieran Armstrong and J.J. Keely were away on holidays and did take part in the first match.

In April 1977, less than two years after the foundation, the club won its first honours by capturing the Jubilee Cup. Roundwood defeated Greystones AFC by one goal to nil in the final at the Carlisle Grounds in Bray. This result was seen as a major shock as Greystones were playing in a higher division; which they had already won. The winning Roundwood goal was scored by Anthony Doyle and the Roundwood team, which was managed by Martin Timmons, lined out as follows: Jimmy Taylor, Jim Molloy, Peter Molloy, Billy Clarkson, Pat Lawless (Capt.), Keith Price, Seamus McDonald, Nick Keenan, Tommy Miley, Ronan Hickey and Anthony Doyle. The substitutes were Seamus Gaskin and Francis Mahon. Sixteen year old Nick Keenan was a son of Matt Keenan who had played on the 1948 Roundwood team and who was in attendance at the match.

In the late 1970s and early 1980s the club ran a successful 5-a-side tournament every summer which attracted teams from all over north Wicklow. In 1982, Roundwood moved from Vartry Park to play at Roundwood Park-then owned by Galen and Hilary Weston-in the field directly across the road from the main entrance to the estate. The club went through a number of lean seasons in the early 1980s. The Roundwood players of this period were undoubtedly the most sporting the club ever fielded as despite many drubbings they gave no walkovers. Among the payers of the 1982-84 era who kept the club afloat during difficult times were: Kevin Mahon, Nicky Fisher, Larry Cosgrave, Peter Turner, Noel Bolger, Mick McCormack, Joe Coleman, JJ Keeley, Paul Robinson, Paddy Brady, Michael Gaffney, Mick Cook, Joey Doyle, Syl Lynch, Martin Timmons, Robbie Scott, Billy Clarkson, Joey Hamilton, Eamon Dowling, Kevin Byrne, Sean McGowan, Pat Kenny, Tony Connolly, and Seamie Byrne.

By the mid 1980s the fortunes of Roundwood had recovered and in the 1985/86 season the club once again achieved success. On Sunday 20 April 1986, Roundwood defeated St. Earnan's of Rathnew 2-0 in the Glenmalure Cup final at the Carlisle Grounds in Bray. Kevin Byrne scored both goals in a very entertaining game. Jim Brophy of the Wicklow People commented on the match as follows:

After thirty minutes of the second half he [Kevin Byrne] trapped a lovely cross from Tony Connolly, turned sharply under pressure, and crashed the ball into the right hand corner of the Quinsboro goal to set the big Roundwood following dancing with delight. Two minutes from the end, he struck again when he blocked a short kick-out from Edward Jameson. Roundwood won this game at the back where Brian Smith and Sean McGowan vied for the man of the match award. They also had power up front where Tony Connolly worked like a beaver and goalkeeper Gary Browne came to the rescue on several occasions.

The Roundwood team on this occasion lined out as followed, Gary Brown, Robbie Scott, Brian Smith, Sean McGowan, Joey Hamilton, Des Brown, Martin Hamilton (Capt.), Thomas Miley, Andrew Cullen, Kevin Byrne and Tony Connolly. The substitutes were Eugene Smith (for Des Brown), Fergus O'Brien, Martin Timmons and Paul Robinson. This team was managed by JJ Keeley and included Thomas Miley who had played on the Roundwood team that won the Jubilee Cup nine years previous. Kevin Byrne was a son of Gerry Byrne who had played on the 1948 Roundwood team.

In 1987 Roundwood moved back to play in Vartry Park and in the same year acquired a new ground at Mullinaveigue which required a lot of work as it was totally overgrown having been unused for over 40 years. Much volunteer work took place in the summer of 1987 removing trees and gorse etc. It took three more years to get the field now known as Vartry Grounds into play and the club eventually moved there for the start of the 1990-1991 season. In 1995 an internal dispute arose in the club which was resolved following court action.

BISHOP CUP WINNERS
Coming soon

ROUNDWOOD SCHOOLBOY SOCCER HISTORY
In the summer of 1975 on the foundation of Roundwood AFC, at Paddy Brown's insistence, an Under 13s team was entered in the Wicklow Schoolboys League. This was the first ever under-age team to represent the area in the Wicklow Schoolboys League. The first team, which was managed by Paddy Brown, competed in the 1975-76 season and consisted of the following players: Paul 'Muller' Byrne (Vartry Heights), P.J. Kavanagh (Knockraheen), Eddie Fisher (Ballinastoe), William Holt (Main St.), Eddie Holt (Main St.), Eddie McHugh (Ashtown), John McHugh (Ashtown), John Swords (Ballinastoe), Brendan Swords (Ballinastoe), Oliver Kavanagh (Knockraheen), Cieran Brennan (Main St.), Des Brown (Bolinass), Derek Connolly (Tomdarragh), Billie Rafter (Knockraheen), Kevin Byrne (Ashtown), and Philip Burke (Ashtown).


The following season Paddy Brown was absent for most of the season due to illness. Nevertheless, two schoolboy teams, Under 14s and Under 15s as well as two Junior (men's) teams were entered, with John Brady and Martin Timmons taking on most of the added responsibility for the schoolboy section. At this time, there was only one league in each schoolboy age-group and despite being pitted against strong first-teams from Arklow and Wicklow etc, the Under 14 team acquitted themselves well and finished runners-up in the Cup and Shield competitions. Although well beaten by a strong St. Patrick's outfit from Arklow in both finals this team nonetheless achieved the unique distinction of being the first team from the area in any grade to play in a Wicklow League final in the Carlisle Grounds in Bray. Among the star players on this team were Paul Byrne in goal and Oliver Kavanagh in attack. The Roundwood Under 14 team that was defeated by St. Patrick's of Arklow on 17 March 1977 in the Cup Final at the Carlisle Grounds was managed by Paddy Brown and lined out as follows: Paul 'Muller' Byrne( Vartry Heights), Edward McHugh (Ashtown), Nicky Fisher (Ballinastoe), John Swords (Ballinastoe), William Holt (Main Street), Des Brown (Bolinass), Ciaran Brennan (Main Street), Edward Holt (Main Street), Oliver Kavanagh (Knockraheen), and Brendan Swords (Ballinastoe). The substitutes were John McHugh ( Ashtown) and Billy Rafter (Knockraheen).

On Sunday 2 November 1976, Roundwood Under 15s played Wicklow Town at Vartry Park (behind Byrne and Woods Pub) in an Under 15 match with the following team: David Brennan (Main Street), John Swords (Ballinastoe), Hugh McLoughlin (Knockatemple), M. J. Davis (Knockraheen), Nick Keenan (Main Street), Des Brown, (Bolinass), George Gaffney (Oldbridge), Noel Kenna (Lickeen), Thomas Armstrong (Main Street), Kevin Mahon (Ballinastoe) and Sean Burke (Ashtown). The substitute was Johnny Lawless (Oldbridge). This match ended in a 1-1 draw with Roundwood's goal being scored by Sean Burke. The following week on Sunday 9 November at the People's Park in Bray, Johnny Lawless replaced Kevin Mahon on the team with Donal Doyle (Lickeen) appearing as substitute, when Roundwood faced Bray Wanderers Under 15s. The Roundwood lads held their own in this match with a final score of 0-0. The star player on this team was Nick Keenan who some six months later in April 1977, when he had just turned 16, took his place alongside the men at right back on the Roundwood Junior team that won the Jubilee Cup in the Carlisle Grounds to secure Rounwood's first ever men's title.

For much of the 1980s Roundwood AFC did not field at schoolboy level although club members helped with the annual Community Games soccer section. For a time in the 1990s Roundwood Youth Club under Peter Darcy entered teams in the Wicklow Schoolboys League. In 1994 this club was involved in a controversy over sporting facilities at Aras an Tochar which received national attention. Among those involved with this club were Brian Smith, Anthony Doyle and John Loscher.

After an absence of some years, Roundwood AFC returned to schoolboy ranks in season 2002-03 when they competed in the Under 13 section. On Sunday 20 May 2003 this team was defeated by Wicklow Town in the Under 13 Division One Cup Final at Lamberton in Arklow. Roundwood took the lead in this match from a long-range free kick by Oisin Byrne with Wicklow equalizing towards the end of the second half. The match then went to extra time with Wicklow eventually winning on a 3-1 score line. The Roundwood team lined out as follows: Peter Byrne, James Molloy, Damien Gaffney, Cathal Gallagher, Ross Brown, Oscar Long, Kwaku Fortune, Oisin Byrne, Tony Conway, Michael Sinnott and Robin Byrne. The substitutes were Daragh Breen for Molloy, Neil Kenna, Paul Crowley and Marlon Becker. This team gave a fine all-round display considering it was their first season in the league and they were pitted against a much more experienced team who were unbeaten in the league. Damien Gaffney, Oscar Long and Ross Brown put in sterling displays for Roundwood. This Roundwood team was managed by another Pat Brown (Togher Park) no relation of Paddy Brown (Bolinass). John Gaffney was also involved in coaching this team.

A new schoolboy's club using the St. Laurence O'Toole name was founded in 2002 by Ger Murphy. The first team from this club to reach an 11-a-side final was the under-11 team of 2005. Under the management of Brian Smith, this team, which included Laragh and Moneystown players, was narrowly beaten by Newtown on a score-line of 1-0, in the under-11 Division 2 Shield Final. The match took place at Finn Park in Kilcoole on Thursday 9 June 2005. Mark Molloy was unlucky when his shot hit the woodwork on the stroke of half-time with Newtown going on to score the winning goal midway through the second half. Ger Byrne in goal and Sarah Miley in defense gave fine displays for the team which lined out as follows: Ger Byrne, Sarah Miley, Sean Smullen, Jamie Short, Daniel Kinlan, Aaron Lynham, Noel Cross, Mark Molloy, Nathan Gorman, Finbar Long and Kevin O'Neill. The substitutes were Joseph Gaffney, Michael McHugh, Robert Scott and Finbar Howell. St. Laurence O'Tooles after a four year existence amalgamated with Rounwood AFC in 2006.